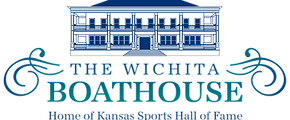 The Wichita Boathouse has been a Wichita institution since the beginning of the 1900s and the Kansas Sports Hall of Fame is proud to be part of its storied history. Whether you want to find out about the great history of sports in Kansas or looking for a unique venue for your next event – the Wichita Boathouse is the place for you.
Kansas Sports Hall of Fame
The Wichita Boathouse is the home of the State of Kansas Sports Hall of Fame and is one of the state's most popular venues for hosting events. The first floor of the building is dedicated to honoring legends who have been inducted into the KSHOF.
Book a Tour
Would you like more details? Of course you do! Contact us today for a private tour, or fill out the form and we'll get back with you within 72 hrs.
515 S. Wichita
Wichita, KS 67202
Venue Website